46% of all Google searches are local. This means Google tools like GMB are a goldmine for local businesses. Ironically, 56% of local retailers have not yet launched their Google My Business listing.
Already counting the enormous benefits, you are missing?
This local SEO guide covers the Google local algorithm and tips that will help you implement your local SEO strategy.
We take you through the process of optimizing the different components to help you get that prime position on the search engine. So whether you are running a start-up or small business, we help you boost your online visibility.
Let's get started!
What Is Local SEO?
Local SEO refers to optimizing a business, product, or service for a search that's location-specific. It helps to increase traffic, leads, and brand awareness, increasing your returns. Users do specific searches on Google and other search engines like Bing, Apple Maps, and Yelp.
Search engines utilize users' information like IP address (laptop) and a mobile device's geolocation to determine the results they will show them. Consequently, when a user searches for a salon, coffee shop, or dentist, the search engines show the relevant businesses in that location.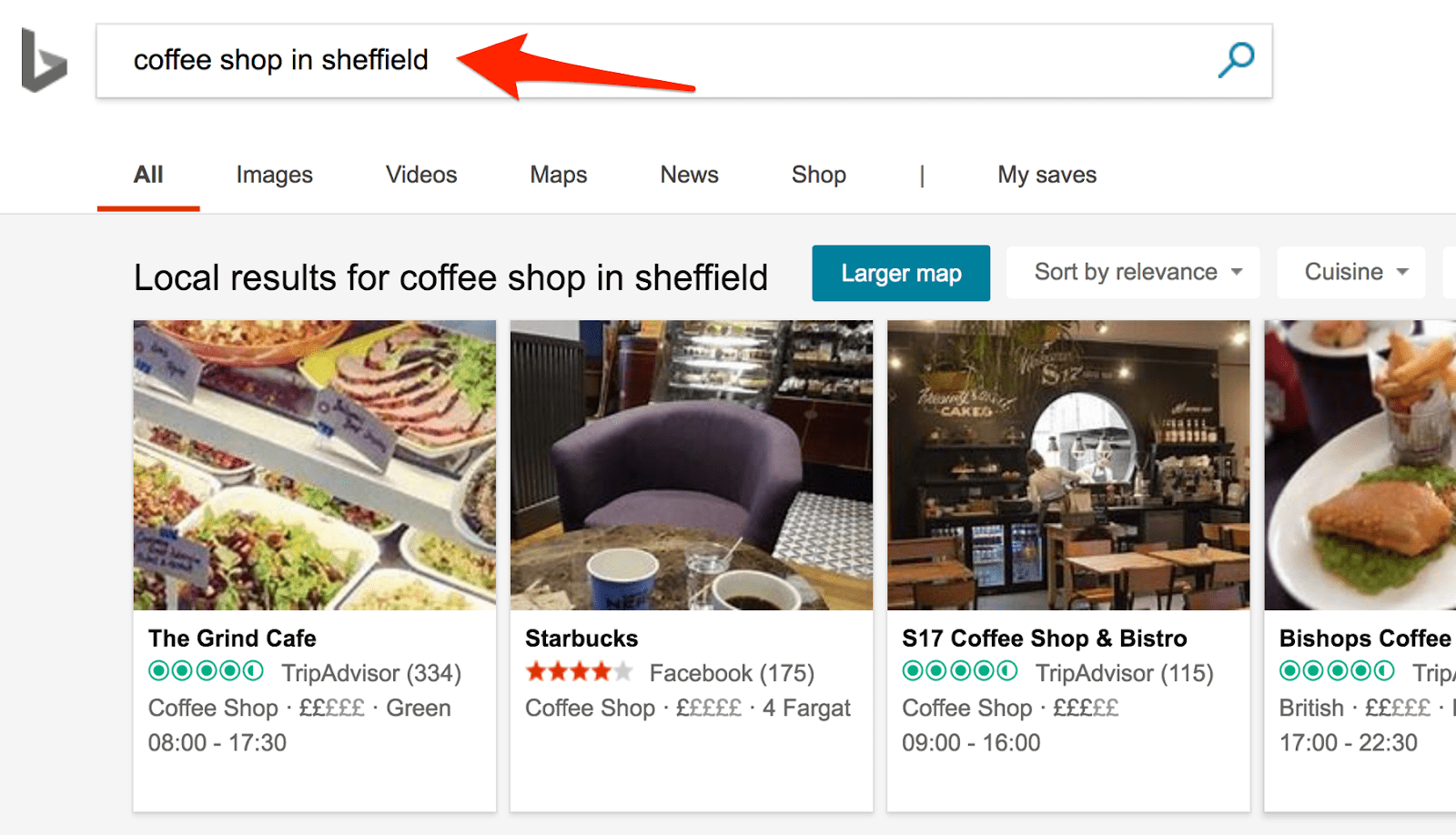 Why Is Local SEO Important?
Why is your website optimization for local search important?
How does it help your business?
88% of local searches on Google result in calls or visits to businesses. This implies that most local customers are on the hunt for exceptional services or products, and if your business is at the top of the local results, you will receive many of them.
Below are more reasons why you should have a local SEO strategy:
1. Improves Your Online Visibility
The first five Google local search results receive 67.6% of users' clicks, excluding the ads featured at the top of the page. Consequently, if you are not among these results or on the first page, your target audience may not even know you exist!
That's where local SEO comes in to help you appear at the top of the business listing or organic results. With this, local customers identify you as an authority in the specific field, and most likely, they call or visit your shop or office.
2. Lucrative Traffic
Imagine ranking at the top of Houston's local search results while owning a New York restaurant. Will this local ranking help you? No, because no one living in Houston would take a long trip for coffee in New York.
The moment users type local keywords like 'coffee shop near me,' they want the product or service right away. So with local SEO tools and techniques, you connect with your target audience, who in return transact with you.
3. Local Customers
Local customers are finding it more essential to help build the community. They consider it necessary to buy from local businesses to boost the community's economy.
When your business begins to put more local SEO efforts into boosting its local rankings, you gain an advantage over other local businesses. Consequently, you receive more traffic or leads, which you can turn into customers.
All you need to do is show them you are the right local business they should visit!
So how can you show local clients, you are the right person to help them? We will look into this further in the tips section.
4. Builds Trust
If your local SEO efforts secure a prime spot for you on Google results, consumers assume that search engines have scrutinized you and are a trusted entity. It also shows that you are an authority in your field since you are at the top of other local sites.
They view you as an expert and will esteem your products or services more than other businesses. Besides, it's more appealing to be in these local rankings positions. As a result, more clients will visit your site or shop instead of your competitors.
5. Reduced Ad Costs
Let's cut to the chase; organic traffic has become the most valuable audience for local businesses. Unlike in the past, when businesses scrambled for top positions on local SERPs, you can boost your returns with local SEO.
You don't have to spend much on ads anymore; you can leverage local SEO tools and rank at the top. They will boost your traffic and leads, leading to enormous returns!
6. Increased Sales
With local SEO, you increase relevant traffic, which means you get more returns. In addition, a local search connects local clients to your business if it's at the top position of search engines. Consequently, they visit your shop to verify the quality of your product or service.
On the contrary, an overseas business at the top of the local rankings has a lower chance since the user does not know them. And when customers are not sure about a product or service, they will be influenced by your proximity and availability to buy from you.
That's local SEO for you; it works like clockwork!
The ABCs of a Google Local Search Results Page
With over 70% of the search market share, Google is the most popular search engine. As a result, it is crucial to learn the principles of a Google local search results page.
So, what does a Google local results page entail?
This page contains four different tiers, including Paid ads, Local Pack, Business Listings, and Organic listings. Since our guide focuses on local SEO, we will dwell more on the two tiers that leverage SEO. They include:
1. Local Pack
The local pack shows a business listing that's relevant to the local searches. This tier appears on Google's first page results after the paid listings. Also known as the Map Pack, it displays three businesses and a map showing their locations.
2. Local Organic Rankings
While the Map Pack paper before organic results, you cannot overlook the significance of traditional search results for your business. You need to leverage the two as most local searches end in organic results.
In a study, MOZ discovered that the Map Pack receives 33% clicks while regular organic results receive 44%. These statistics verify it's imperative to rank in business listing and regular unpaid results.
After setting up your local SEO strategy for success in these two units, the next thing you need to do is tracking to see whether you are making progress. Again, you can utilize rank trackers to help you evaluate the effectiveness of your Map Pack as you make adjustments.
Tracking will help you enjoy consistent growth and increased returns!
Local SEO Keyword Research
How do you find local SEO keywords?
If you've written blogs before, you must be familiar with the technique to find new keywords now and then. Fortunately, local SEO doesn't demand much; instead, you can start by using a short list of keywords that appear in local search results.
Here are some prolific tools for you to help you with local SEO keyword research:
I. Google Suggest
Google Suggest can help you with local SEO. However, you have to ensure that the local search must be connected to what prospective clients will search for. For instance, terms like 'HVAC' will suggest results that are not suitable for local SEO.
But when you add local terms like 'HVAC N,' you begin to see keywords that can help your local business ranking on search engines like 'HVAC New Jersey' and 'HVAC ner me.' Hence, it's a good starting point for local search.
II. Yelp Suggest
Yelp Suggest works like Google Suggest; you type a keyword that a local customer may use to find your business and check the suggestions. What's different with Yelp is that it features different keywords from what you searched.
III. Utilize Craiglist
Craiglist is fundamental as it helps you get local keyword ideas. Moreover, the process is fast and straightforward; you only need to go to the service section, choose a location, and type a keyword.
Immediately, a list of keywords will stand out. For example, if you type 'moving,' you might get keywords such as 'reliable moving services,' 'established moving company,' or 'affordable moving services.'
IV. Benchmark Your Competitors
Why are your competitors in that prime spot?
What keywords are placing them ahead of you?
Google comprehends the local intent better and considers this when ranking different websites and businesses. According to Ahrefs, the average #1 ranking page ranks well (top 10) in more than 1000 other keywords.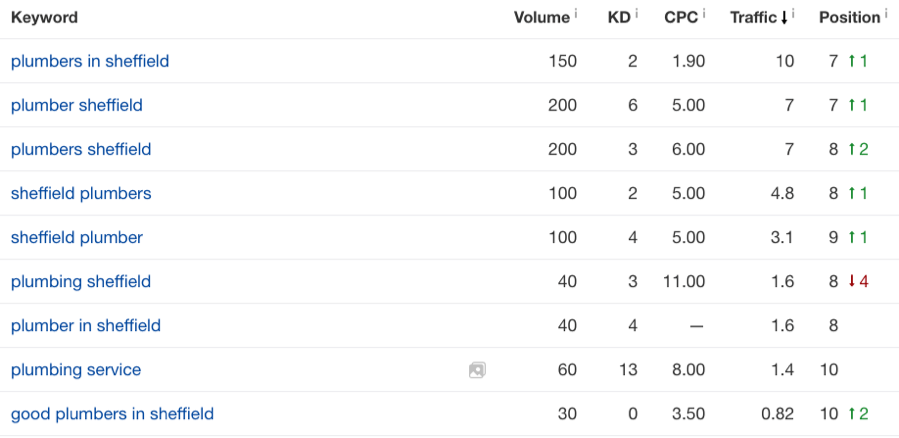 When you analyze this data, you will realize that apart from having a local plumber in Sheffield rank at the top, you will see they rank at the top 10 for other keywords.
Such websites are authorities in this field and continue to rank at the top. So, when you analyze them, you may come up with long-tail and related searches that will help you improve your local SEO approach.
Do you need more accurate information on your competitors? Then, you can use the Content Gap tool to have a detailed analysis that will help you improve your keyword research techniques.
V. The Google Keyword Planner
GKP exhibits search volume data for different geographic areas. In addition, it offers you a bunch of terms for you to choose locally relevant keywords. Consequently, it makes your local keyword research more straightforward and faster.
In addition, if you are looking for new local keywords, you can begin with a website. This also helps you learn what puts your competitors ahead, helping you make the necessary adjustments to take the prime spot.
VI. Local Voice Searches
According to Google, 20% of all its mobile searches are voice searches. Unlike a local keyword search, a voice search is usually longer and more natural. So, instead of searching for 'plumber Jacksonville,' a user will say 'an experienced plumber in Jacksonville open right now.'
As a result, you need to keep this in mind when doing local keyword research for your business. It will help you reach more prospective customers!
Local SEO Ranking Factors
How exactly does local SEO work?
Below are the different ranking factors that Google uses to determine the position of different local businesses:
1. Google My Business Profile
Most local businesses would want to enhance their online presence and get more returns. However, with limited local SEO efforts, they don't realize the maximum benefits it brings.
Google offers all businesses, whether SMBs or established companies, an opportunity to connect with their prospective customers through Google My Business.
What is Google My Business?
Google My Business is an easy-to-use tool that comes at $0.00. The main focus of this tool is to help you manage your online presence across Google, for instance, in search and Maps.
Google My Business is the main ranking factor in the Map Pack. So, when you have it optimized, there are higher chances your local business will take the prime spot for local search.
That does not mean that your local business website should be overlooked. Instead, the two work together to secure that top position. As a result, you have to employ a local SEO strategy that will help you optimize the content on your page and the links leading to your site.
2. NAPS
Name, Address, and Phone Number (NAP citations) are crucial to your local SEO ranking signal. Reason?
Google analyzes this information (name, address, and phone number) to verify whether your information is correct. Consequently, the more frequently they see your NAP citations for your business, the more confident they become concerning your location and contacts.
You have to ensure you get consistent NAP citations on every website if you want to enjoy top positions on Google results!
3. Reviews
Online reviews determine your position on the search engine results. For instance, Google will consider the review score and the number of reviews you have.
If your Google My Business profile has negative reviews that continue to increase over time, this may hurt your local rankings. Moreover, Google considers third-party sites to see your reviews, for example, Yelp.
According to a study done by Backlinco, the local business responses to reviews also play a significant role in ranking. So, whether positive or negative reviews, you need to address them appropriately to gain an advantage over your competitors.
4. 'Normal' SEO
SEO is one of Google's traditional ranking factors that applies even today to local businesses. In fact, Google confirmed that organic SERPs ranking affects local rankings. Hence, the higher a local business ranks in organic results, the higher it will rank in Map Pack.
Consequently, it's essential to create content, build links, and optimize your pages to improve your local SEO rankings. All these are especially crucial for competitive industries like dentistry and legal.
4. Essential Local SEO Tips
1. On-Site SEO
After employing traditional On-Page SEO for your title tags and body page, you need to leverage ON-Site SEO if you want to reap maximum benefits as a local business owner. So, how do you go about this?
Step 1. Create Local Content
First, create local content that is unique to each location that you are targeting. You can even have landing pages for regions or cities where you don't have a physical location.
Although this will not help your business rank on Map Pack, you can have a Google My Business profile for that city. Moreover, this can help you rank for organic results, which alludes if you have a target audience in that area, your traffic will convert incredibly.
You can also use this guide on implementing an effective content marketing strategy to get better results.
Step 2. Use Schema
Schema is another essential element for local SEO if you want to boost your local business. The good news is that it's easy to use so that you can use it.
But why does it matter?
It's a code that Google uses to get additional data regarding your business or website, helping them understand the type of content you display.
You can employ Schema to markup your address and phone number. And one type of Schema that can help you make significant changes is the review markup. Like other SERPs, review stars will make your results appealing!
Step 3. Leverage Title Tag Cliffhangers
How about you add a little seasoning to your title tag? Adding a solid and benefit-driven statement to your title tag not only makes it long but unique and catchy to the eyes of users.
You can go beyond Google's limit, which is usually 50 characters. Typically, this will evoke curiosity, giving you more clicks and traffic. Eventually, you will outrank your competitors!
2. Local Link Building
In a study, MOZ discovered that link signals are the most crucial ranking factor in local organic results. For the Map Pack, they are the second most significant factor. Consequently, you need to leverage local link building to ensure you stay ahead.
So, how can you improve your local link building?
Step 1. Local Businesses
As a local business owner, you have relationships with other businesses in the area. So this may be a good opportunity for link building, and you can start with those you know before proceeding to the rest.
While it may involve cold email outreach, it is worth it in the end. You can have a list of your distributors, suppliers, contractor, or neighboring businesses and evaluate a page where your link would fit.
Step 2. Contribute to Local Events
If you assess most local businesses raking in huge profits, you will notice they always collaborate or contribute to community events. Whether fairs or charity, this helps them in link building.
The good thing is that they don't have to request for it; when they sponsor local events. As a result, Google sees them as authorities in their field, allocating them prime spots.
Step 3. Why Not Leverage Local PR?
Local news sites are hunting for more stories each day, and they have a vast local audience that can help you reach more consumers. So, anytime you have an exciting event, you can inform them earlier.
You may also help the local newspaper or site craft the story to give them more background details. It will make local people aware of your progress and bring tons of traffic to your site when they find a link to your business.
Moreover, local listing sites are huge in cities, and most people will want to see their recommendations. If you are part of the 'vetted,' you get a ranking advantage on local search engines and trust from the community.
Link building may seem quite demanding, and you are perhaps wondering whether there is an alternative to all this hustle. Luckily, you can leverage platforms like Twitter and get featured on the news sites!
3. Local Citations
NAP citations are a fundamental part of local SEO, and they are like backlinks; challenging to build but with great benefits. So, how can you build NAP citations appropriately?
Step 1. Review Your Local Citations
For local SEO to work for your local business, you have to ensure your NAP data is consistent. Some of the places you need to do a NAP audit include:
Local listing sites
Business directories
Your Google My Business profile
Your website
Simply put, you need to review every place your business is mentioned online. While you may have numerous tools to use for your online business directories, you need to ensure you have up-to-date NAP and historic local citations to help you refresh your NAP info.
Step 2. Fix Incorrect NAP
After getting a list of citations, you can identify those that are incorrect or inconsistent. Older businesses may have to change and update so many citations if they've never run an audit before.
Seems like much work, updating each at a time.
Fortunately, you can utilize services like Yext and Bright Local to fix them.
In addition, since you are not in control of online business directories on other sites, you may have to request the concerned local resource to make the changes.
4. Google My Business
Google My Business is raking huge returns for local businesses, and you cannot miss this grand opportunity. But, while you may hear some local authorities say how well it works for them, you need to understand the background work they've been doing to get there.
Want to see how you can benefit from this opportunity?
Step 1. Keep it 100% Consistent
Without consistency, you cannot secure a top position on Google search results. For instance, your credibility is questioned if your physical location is different in two or more sites. You need to ensure that your NAP citations match across the web.
But if your info is consistent, third-party sites like Yelp will approve your business as legit. So, have the same address on your Google My Business profile and your website to make it definite!
Step 2. Filling Data
Another crucial part of local search optimization is completing your profile. Consequently, you should fill all the sections like the category selection (secondary categories, services, and products).
Most businesses skip this part. What they don't realize is that it tells Google what products or services they sell. Consequently, it's easy to feature them on the business listings when users do the exact search.
Step 3. Keep Updating Your Data
Want to increase local search visibility for your business? If yes, you have to keep all important information up-to-date. For instance, opening hours, phone number, and your physical location if you move across town.
You don't want potential customers to contact you to no avail or visit your shop only for them to see a 'closed' sign. They may express their disappointment through reviews which will eventually affect your business ranking.
Remember, Google reviews what users or potential customers say about your business!
Step 4. Get More Positive Reviews
Online reviews are key signals for search engines to rank businesses. So if you want to be featured after a local search, getting more positive reviews can help you do that.
Perhaps you are wondering what about those negative reviews that I'm not in control of? Generally, there won't lack such instances, but you don't have to panic about that. Instead, you can reply in a friendly approach that shows you are working on that area.
Don't forget to reply to positive reviews, too, as Google's search engine considers this too. This is usually referred to as responsiveness; the more effort you put into this, the more you're likely to be featured.
Wrap Up
Securing the prime positions on search engines can be an uphill struggle, especially with limited resources. But thanks to local SEO, which helps you scale local search engines and appear ahead of your competitors.
As more people continue to use a mobile search like voice search to look for products and service providers near them, you need to boost your online presence.
You can accomplish this by optimizing local blog posts, GMB business accounts, NAP citations, and meta descriptions. Moreover, you can engage the community for link building to secure strong citations.
Remember that users have a share in your local SEO. So, make extra efforts offline for more reviews to rank better!
What sphere of your local SEO strategy do you think you need to improve?